Kare Plus Does Telford Dark Run In Aid Of Hope House
Tuesday, October 31st, 2023 | Uncategorized
Plucky runners from Kare Plus HQ braved the wind and rain to take on Telford Dark Run in aid of Hope House children's hospices.
Decked in Halloween fancy dress lights and glowsticks, almost 400 runners of all ages pounded the paths of Telford Town Park on 28th October to raise money for both Hope House near Oswestry and Tŷ Gobaith near Conwy.
With more sponsorship still to come in, an incredible £10,000 has already been raised following the event.
Both hospices care for terminally and seriously ill children in Shropshire, Cheshire, Powys and North Wales, while also offering bereavement support and counselling to their families.
Kare Plus National, based in Hadley Park East, Telford sponsored the event while six colleagues from Kare Plus Franchising took part in the dark run itself.
On top of our sponsorship of the event itself, we raised more than £1,100 in team sponsorship for Hope House.
Hope House Children's Hospices
Hope House Children's Hospice in Shropshire first opened in 1995, followed by Tŷ Gobaith in North Wales in 2004.
When it first opened, Hope House was only the 10th children's hospice in the world, caring for children of all ages from babies to young adults with life limiting, terminal and life threatening conditions.
There are almost 2,000 local children living with a terminal illness right now, with three families a week facing the heartbreak of their child passing away.
With the charity's care, no family in the region faces the death of a child alone. They even offer counselling to help those faced with losing their little ones cope with the situation better.
The two hospices cost £7.5 million a year to run, with 10 months of each year funded by public support.
Telford Dark Run
Telford Dark Run takes place every year, with 2023 seeing its return to our home town for the ninth time.
The Kare Plus team raised £572 in sponsorship, which was matched by our CEO bringing the total so far to £1,144.
There's still time to sponsor us, if you have a few pounds you can spare! Click here for our Hope House Dark Run Just Giving link.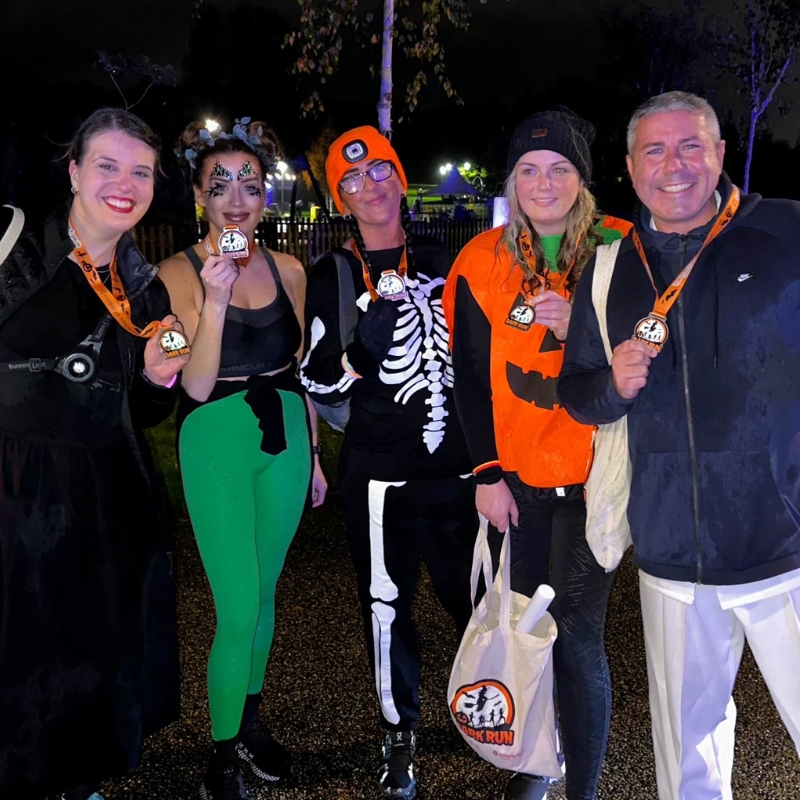 "The Hope House charity offers such wonderful support for both children with terminal and life threatening conditions, from respite to end of life care, bereavement support and counselling," said Isabelle Baker, Head of UK Operations for Kare Plus.
"When we heard Telford Dark Run was returning, there was no question we wanted to not only sponsor the event, but also for as many of us to take part as possible in the run itself.
"The idea of losing a child is just unfatholmable and Hope House Children's Hospices really do such amazing work to make it as bearable as possible for families in that position."
The Kare Plus team, depsite the rain and only a couple of us actually enjoying any form of exercise, really enjoyed Telford Dark Run.
"It was surprisingly good fun running in the rain and definitely helped keep everyone cool and motivated," added Maria Wilkinson, Kare Plus's Marketing Manager.
"We had a great warm up Clubbercise session before setting off through the trees all around Telford Town Park.
"Even though it took us all about two days to properly dry out again, we'd definitely love to return to run at future events."
Supporting Local Children And Families
Telford Dark Run is one of four evening running events supporting Hope House, with a host of other events also organised through the year.
Dawn Ball, area fundraiser for Hope House, said: "We cannot thank our Dark Run sponsors enough for wanting to help us light up the night for local children and their families.
"Thanks to our incredible friends at Kare Plus, we are able to ensure that every penny raised at Telford Dark Run will go directly towards the care of children with life limiting conditions.
"We are their lifeline and together with local companies and organisations we will be there for every family who needs us. The night was a great success with over £10,000 raised already."
With so much of the funding needed to run both hospices and their invaluable bereavement support coming through the general public's support, signing up for one of their events each year is a very worthwhile cause.
Other events coming up in November to support the charity include Let's Do Dinner, with supporters invited to host a dinner party at their house in exchange for donations or holding a raffle or other at-home fundraiser, and Big Night Live from Chester Market.
For a full list of upcoming events and ways you can support Hope House, take a look at the website here.
You can also read the personal account from parents several parents who have been supported and cared for by Hope House children's hospices.
About Kare Plus
We've been known as The Caring Company since 1989, when the first Kare Plus office opened in the West Midlands.
Since then, we've grown to become one of the UK's leading healthcare staff and homecare providers, with a large network covering the country from the South West to Scotland.
From permanent or temporary staff for care home and other healthcare settings to tailored homecare packages for those still in their own homes, Kare Plus has been caring for our communities for almost 35 years.
For more information about our services or to find your nearest Kare Plus office, visit our website homepage.