Breast Cancer Awareness Month - Give Your Boobs Some Extra Love This October
Monday, October 2nd, 2023 | Uncategorized
Here at Kare Plus, we want you to give your boobs plenty of love, not just this month but every month, by checking often for changes that could help potential detect breast cancer as early as possible
Every October, major breast cancer charities organize Breast Cancer Awareness Month to raise awareness and funds for research into its cause, prevention, diagnosis, treatment, and cure.
One of the most common cancers among women globally, the risk of developing it increases the older you get.
It is the most common cancer in women in the UK, with almost 56,000 women diagnosed with breast cancer every year.
That's why the NHS offers regular, free mammogram screening for all women aged 50 and over, as one of the most effective and early ways of detecting breast cancer.
With a 10-year survival rate of more than 75% or more, in many cases breast cancer can be treated, especially when found and diagnosed in the early stages.
Let's not forget that men can also develop breast cancer, although it is much rarer than in women.
From Kare Plus, our message is simple:
Check your boobs and go for your mammograms.
Checking for breast cancer regularly is key to finding it early, when treatments are most effective and survival rates are highest.
What Breast Cancer Awareness Month Is All About
Despite systematic improvements in breast cancer treatment, early diagnosis remains the most important factor in successful treatment.
Raising awareness about breast cancer early detection, which can lead to better treatment and a better prognosis. There's a lot of information about breast self-examinations, clinical breast exams, and mammograms.
Fundraising, plain and simple. So many do walks, runs and other fundraisers raise money for breast cancer research and support during October.
Hearing Their Stories. Breast cancer survivors and those currently battling the disease often share their stories to inspire others, provide hope, and stress regular screenings.
Wearing it pink and the pink ribbon. Show your support for breast cancer awareness and for those affected by it by channeling your inner Barbie for Wear It Pink day on 20th October.
Breast Cancer Awareness Month started in the USA but has gone on to become a worldwide campaign supported by all leading charities, including Breast Cancer Now, Breast Cancer UK and Macmillan.
It's an indesputable fact that the risk of developing breast cancer increases as you get older, with one in three women aged 70 or over diagnosed with the disease in the UK.
That's more than 13,000 women in their 70s or older diagnosed with breast cancer every single year.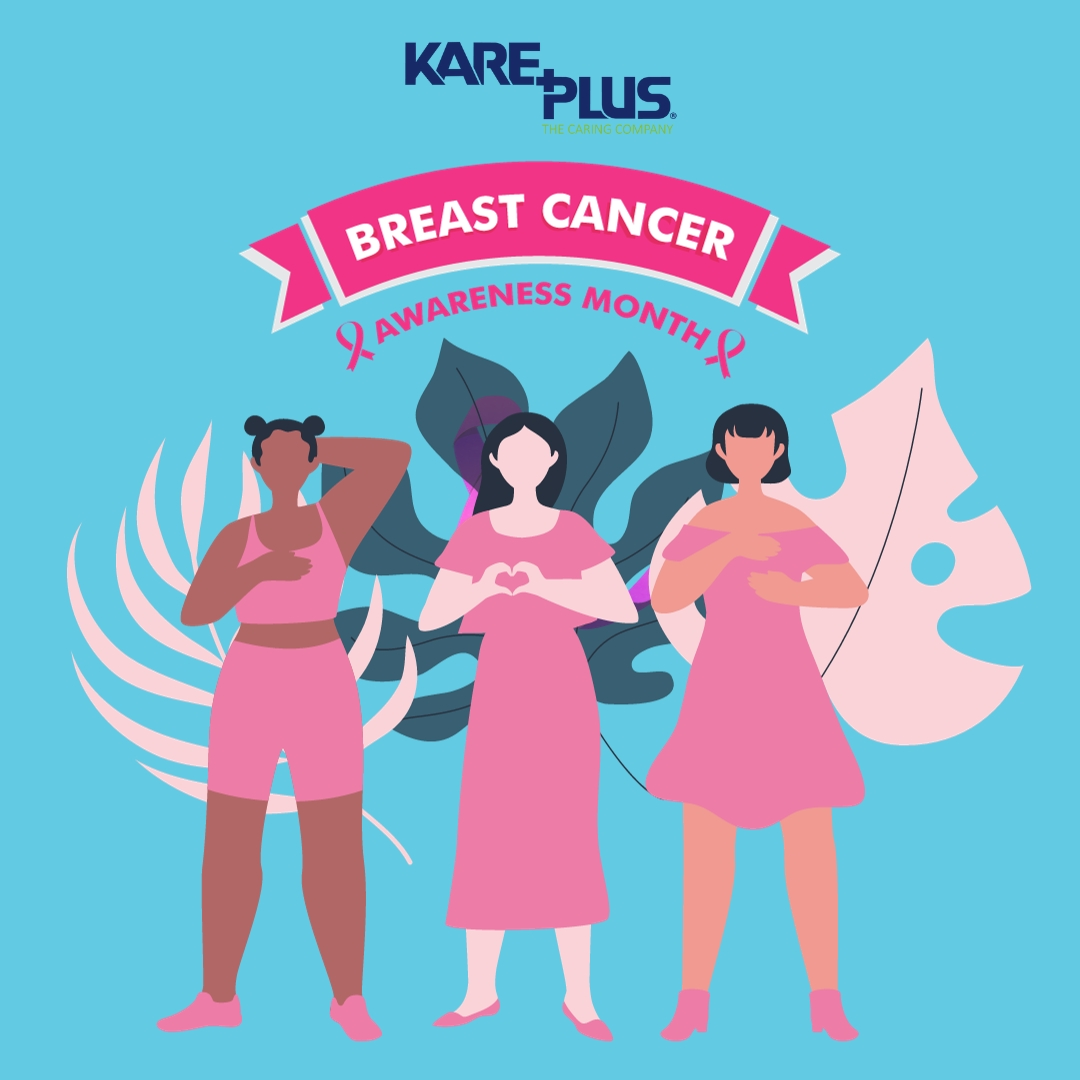 "For those who remember it, it's almost a decade since the launch of Don't Assume You're Past It as part of the Government's Be Clear On Cancer campaign, which highlighted the increased risk of breast cancer being diagnosed in those 70 or older," said Kate Willis, Modern Matron at Kare Plus.
"Women need to be breast aware at any age, as this isn't just a cancer in younger or middle aged women, it can affect anyone at any stage of their lives.
"Treatments and survival rates for breast cancer, especially when it is diagnosed at an early stage, are increasing but finding it early is key.
"Whether you're 50 or 80, going to your mammograms and checking your breasts regularly for any changes are both so important.
Breast Health and Risk Factors
Several factors can increase the risk of breast cancer, including age, family history, certain genetic mutations, early menstruation or late menopause.
Having a first child at an older age, never having been pregnant, postmenopausal hormone therapy are other things that increase the risk of developing it.
When you take all of that into account, it's no wonder it is a common cancer among women.
While some risk factors, like family history, can't be changed, others, such as alcohol consumption, can be managed.
Regular screenings, including mammograms, are crucial to early detection, when most types are their most treatable.
The odds of breast cancer by age simply can't be ignored and as a healthcare franchise, Kare Plus is commiteed to raising awareness
Pink October
October breast cancer awareness runs throughout the month, culminating on Wear It Pink day.
Happening this year on Friday 20th October, our Kare Plus office teams will be getting involved by donning every shade from pretty puce to baby pink to raise awareness about checking for breast cancer at any age.
Breast Cancer Awareness Month
"It doesn't matter if you're 19 or 90, checking your breasts regularly is so important to pick up on any changes, which should then be checked by a doctor," added Kate.
"Breast Cancer Awareness Month highlights access to so much information on how to check your breasts correctly, what signs and symptoms to look out for and if you are diagnosed with the disease, what support is out there.
"From Kare Plus to you, show your boobs some love and keep a close eye on them."
For more information and support on breast cancer, visit Breast Cancer Now's website.