How Kare Plus Keeps Our Canine Companions Cool In The Heat - Bring Your Dog To Work Day 2023
Friday, June 23rd, 2023 | Awareness Days | News | Uncategorized
It's Bring Your Dog to Work Day and that means our Kare Plus canine companions have joined us in the office up and down the UK.
With another hot day on the cards, this meant air-conditioned car journeys, early morning walks and keeping our offices cool and comfortable for our favourite four-legged friends.
We love having dogs at work here at Kare Plus and many of our branches are a dog friendly office.
Established in 2014 by ethical pet product company HOWND, the Friday after Father's Day is officially take your dog to work day to raise money for animal welfare charities.
With it being another hot and humid day here in the UK, we made sure any dogs joining us at the office were kept comfortable, with cool offices, plenty of water and cold or frozen treats.
Kare Plus Bring Your Dog To Work Day 2023
Here are some of the perfect pooches who joined us in Kare Plus branches across the UK on national Bring Your Dog To Work Day 2023.
Lewie and Bambi – Kare Plus HQ
Gorgeous Jack Russell Lewie is something of an official mascot for the Kare Plus head office team.
He is one of two dogs belonging to our software whizz Matt and is best friends with everyone he meets.
Lewie loves cuddles and is a real lap dog, even snuggling up under the duvet in bed if he's allowed after sneaking in.
Now five years old, Matt has had him since he was a puppy.
Matt's other dog, Bambi, is a rescue dog from Romania and had to stay home, as she's too nervous around new people to bring her to the office.
Bambi, who is a bit bigger than Lewie, loves to chase him around the garden and because she's faster, he usually ends up with Bambi affectionately chewing on his leg.
We had to share a picture of Bambi too, because she is just too beautiful not to.
Bow – Kare Plus Preston
Beautiful Bow is a Bichon Poodle cross and incredibly cute with it.
She belongs to Yasuyo in the Workforce Solutions Team and is a firm favourite with all the office staff at Kare Plus Preston.
Bow is now 11 years old but always makes an effort to give a friendly welcome to anyone who visits the Preston office on Blackpool Road.
Winnie, Willow, Hudson and Lillie - Kare Plus Wirral
Louise, director of Kare Plus Wirral and Liverpool, has four perfect pooches to celebrate Bring Your Dog To Work Day.
Three-year-old Winnie and two-year-old Willow are the two cutest Dachshunds we have ever seen, while Hudson the 14-month-old Retriever is still a puppy at heart and sweet Labrador Lillie is the eldest at nine.
All love saying hello to visitors and enjoying fusses from the office tea.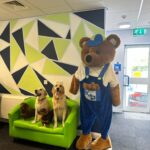 Bella – Kare Plus Ashford & Margate
Adorable Bella is a precious pug who often comes to work with her owner, director Paul.
Bella's favourite pastimes as a dog at work include helping the team with their official training sessions and making sure cardboard boxes in the office are a suitable size. E
verybody loves Bella in the Ashford Kare Plus office.
Dog Friendly Office
We love being a dog friendly workplace at Kare Plus and that goes hand in hand with ensuring our dogs are looked after, whether they come to work with us or stay home.
This means doing everything we can to keep them cool during the summer and other hot days through the year.
Here's what our dog loving owners do for their furry friends to keep them safe in hot weather.
Plan walks in advance for the coolest times of day – early in the morning and late in the evening and take regular breaks in the shade when out
If morning and evenings are still too hot (21°-26°C, depending on breed and age), skip walks altogether for short garden 'comfort' breaks with plenty of shade
If the ground feels too hot for you to touch with either your hands or feet, it's too hot for your dog's paws, so keep walking off the cards until you could walk comfortably barefoot
If you can't walk your dog due to the heat, keep them busy with games and low energy activities indoors, or briefly outdoors in the shade, such as hiding treats for them to sniff out or even getting them a paddling pool to splash around in
Keeping them topped up with lots of fresh, cool water to drink both at home and when out walking
Frozen treats, such as ice cubes with tasty fruit pieces or chunks of frozen watermelon, will both cool them down and keep them occupied figuring out how to eat them
Never, ever leaving dogs in a car on a hot or even just day, even if the windows were open and they have water.
If you have to travel with your dog in the car on a hot day, do so for the shortest time possible at cooler times of the day. Make sure you have the air conditioning on or cool blowers with windows open, water for them to drink and sun shades.
We'd love to see pictures of your dogs! Head over to our Kare Plus Facebook page and pop them in the comments under our Bring Your Dog To Work Day 2023 post.
If you're a fellow dog friendly business, we'd love to see your photos too.
You can also donate directly to the charities HOWND supports through the Bring Your Dog To Work Day website
.